Business References, Transcripts, Resumes
Business Consultant, GAAP Accountant, Training and Development
Nicholson Business Services SF Business Certificate: #942900
2016DebraNBHybridResume my life's work all in one place!
DebraNB_Acct2016_3 My latest Accounting Resume
DD My Design Document for my TUSESI Training for a writing sample!
NBS_References2012 from Nicholson Business Services clients throughout the years
Business Documents
The_Conversation_Group_Reference
Treasure_Island_FAST_Team_Reference
Treasure_Island_FAST_Team_Reference2
JHU_Reference_Dale_Kirby
JHU_Reference_Chuck_Wolfkill
Some Personal References
Christian_Family_Counseling_Reference
Dennis_Thole_Reference
Napa_Valley_Music_AssocReference
Educational Degrees and Transcripts
MA-Education Instructional Technologies

MA in Education in the Instructional Technologies degree conferred Jan 6 2016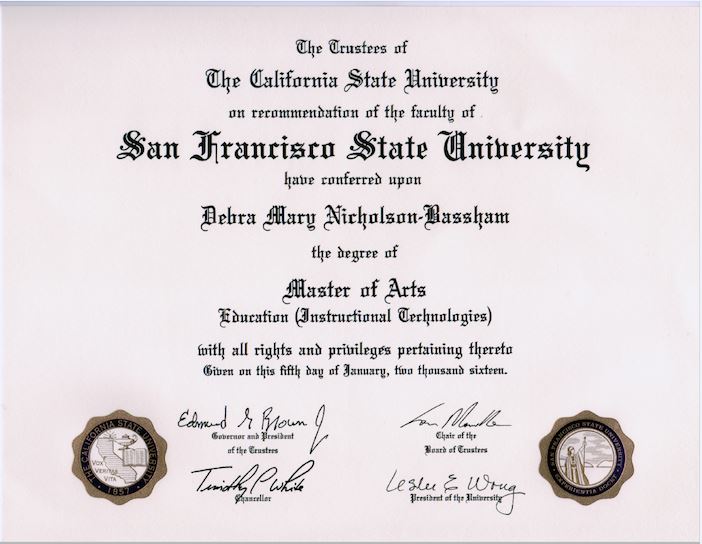 Statement of Purpose
Statement of Purpose for MA ITEC
SFSU Bachelors of Arts (cum laude) Degree and Transcripts
Combined BA and MA TRANSCRIPT
MA_2016_SFSU_Transcript for above degrees
ACCOUNTING CREDITS
City College of San Francisco Transcripts 2005
Official_City College of San Francisco_Transcripts_2009
JHU Transcript 1974-79 Evening College Student
Golden Gate University:Business Law, Math for Managers
Creative
BAVC Mayoral Scholarship –Digital Directions 2004-2005 324 web/video credits
– Broadcast Radio, theater, poetry, musical performances presentations, writing, graphic arts
– Theater and creative references upon request.
Ear Candle Productions at YouTube
Ear Candle Productions Music at Bandcamp